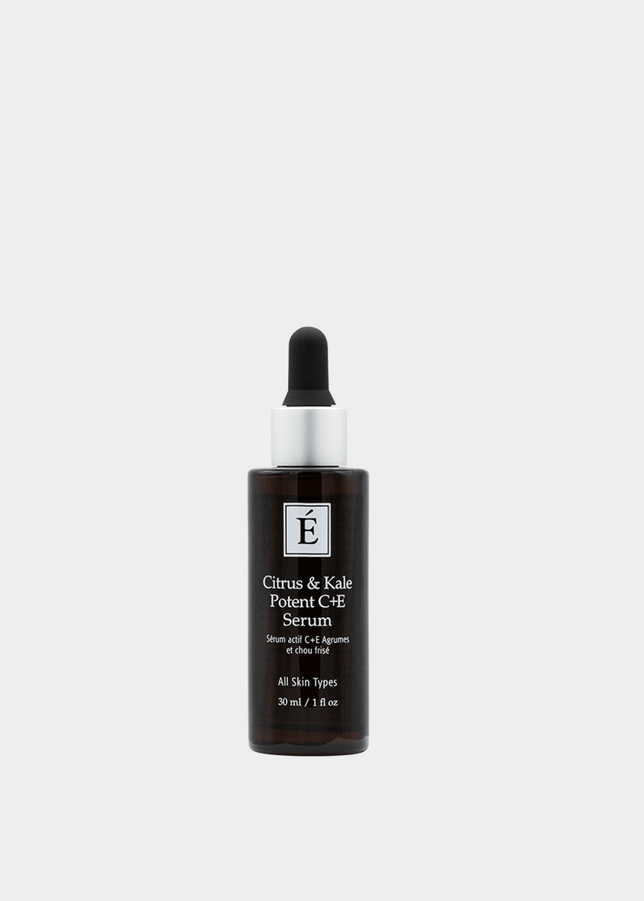 Eminence Organics
Citrus & Kale Potent C+E Serum
Citrus & Kale Potent C+E Serum delivers essential nutrients deep into your skin for a rejuvenated appearance. A fortifying organic blend of kale, broccoli sprout and spinach extracts reduces wrinkles and removes toxins. Vitamins C and E work synergistically with one another to boost collagen and elastin production while fighting off free radicals. Dull, lackluster complexions are visibly transformed with improved firmness and elasticity.
Organic Phytonutrient Blend™ [Aloe Juice*, Tomato Juice*, Horsetail Extract*, Chasteberry Extract*, Flaxseed Extract*, Hops Extract*
SEE FULL INGREDIENTS
Find out if any of your friends have bought this before.
INGREDIENTS
Ingredients: Organic Phytonutrient Blend™ [Aloe Juice*, Tomato Juice*, Horsetail Extract*, Chasteberry Extract*, Flaxseed Extract*, Hops Extract*, Barley Leaf Extract*, Wheat Leaf Extract*, Algae Extract*, Spinach Extract*, Broccoli Extract*, Alfalfa Leaf Extract*, Beetroot Extract*, Dulse Extract*, Bladderwrack Extract*, Yucca Extract*, Red Clover Flower Extract*, Honey*, Paprika Extract*, Sunflower Seed Oil*, Rosemary Leaf Extract*, Maltodextrin (from Rice)* and Vegetable Glycerin*], Vegetable Glycerin, Vitamin C), Avocado Fruit Extract, Lotus Root Water, Mannitol, Vitamin E, Broccoli Sprout Extract*, Magnesium Sulfate, Vitamin B3, Zinc Sulfate, Kale Leaf Extract*, Vitamin B5, Biotin, Sodium Ascorbyl Phosphate, Sodium Benzoate, Gluconolactone, Lemon Peel Oil*, Grapefruit Peel Oil, Ferulic Acid, Botanical Hydrolyzed Hyaluronic Acid, Chlorophyll, Spinach Extract*, Biocomplex2™ [Acai*, Lemon*, Barbados Cherry*, Indian Gooseberry*, Baobab*, Camu Camu*, Carrot*, Coconut Water*, Goji Berry*, Tapioca Starch (from Cassava Root)*, Alpha Lipoic Acid and Coenzyme Q10], Vegetable Glycerin
BENEFITS
01. BRIGHTENING

02. FIRMING

03. PROTECTING