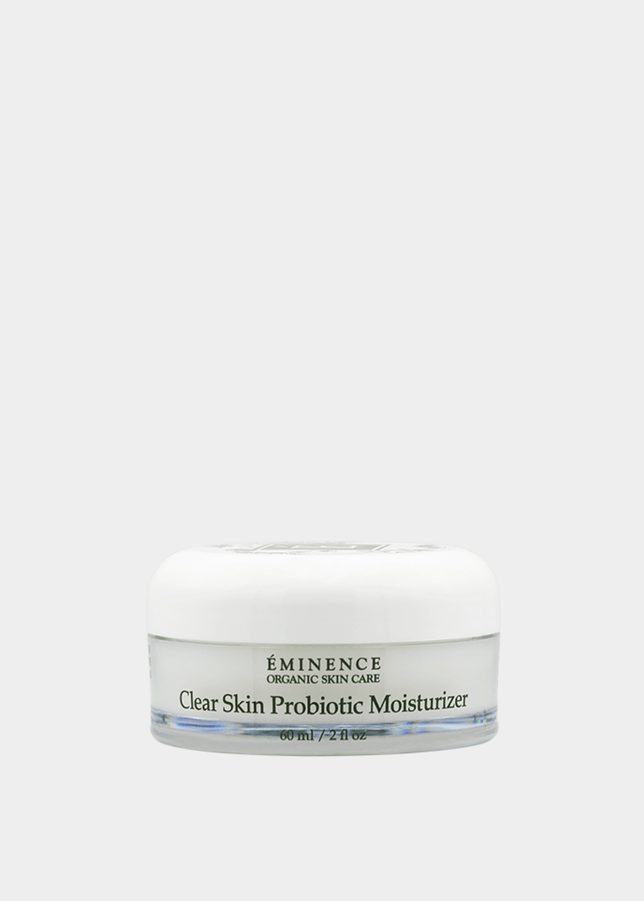 Eminence Organics
Clear Skin Probiotic Masque
Organic Phytonutrient Blend™ [Aloe Juice*, Cucumber Juice*, Willow Bark Extract*, Rosehip Seed Extract*, Grapefruit Peel Extract*
SEE FULL INGREDIENTS
Emulsify a small amount of the masque in your hand with a few drops of water. Apply evenly over the entire face. The neck and the decollete can also be treated, if desired. Allow the masque to dry for 5-10 minutes. Use a lukewarm microderm cloth in a circular motion to gently scrub off the masque. Rinse thoroughly with clear water.
Find out if any of your friends have bought this before.
INGREDIENTS
Organic Phytonutrient Blend™ [Aloe Juice*, Cucumber Juice*, Willow Bark Extract*, Rosehip Seed Extract*, Grapefruit Peel Extract*, Comfrey Leaf Extract*, Lavender Flower Extract*, Horsetail Leaf Extract*, Peppermint Leaf Extract*, Calendula Officinalis Flower Extract*, Beetroot Extract* and Vegetable Glycerin*], Cetearyl Alcohol, Corn Germ Oil*, Shea Butter*, Propanediol (from Corn), Kaolin Clay, Provitamin B5, Beeswax, Vegetable Glycerin, Yogurt, Stone Crop Juice*, Glyceryl Stearate, Cucumber Extract, Cellulose, Calendula Officinalis Flower Oil, Vitamin E, Benzyl Alcohol, Salicylic Acid, Sorbic Acid, Parsley*, Sodium Cetearyl Sulfate, Cyclodextrin, Tea Tree Oil, Corn-Derived Methyl Glucose Sesquistearate, Menthol, Lactic Acid, Sodium Salicylate, Xanthan Gum, Vitamin C Ester, Soy Lecithin, Biocomplex2™ [Acai*, Lemon*, Barbados Cherry*, Indian Gooseberry*, Baobab*, Camu Camu*, Carrot*, Coconut Water*, Goji Berry*, Tapioca Starch (from Cassava Root)*, Alpha Lipoic Acid and Coenzyme Q10], Vegetable Glycerin*.
BENEFITS
01. CLEARING

02. SMOOTHING

03. REPAIRING